If there's one thing we can all agree on, it's that Rihanna's body is pretty wild, wild, wild.
So when we got the chance to meet and workout with her personal trainer and PUMA Ambassador, Jamie Granger, we can't help but interrogate her for fitness tips. After all, we couldn't be the only girl in the world who's thinking this, right?
As Rihanna's personal trainer for six years and counting, it's not a real surprise when our masterclass started even before we hit the mat. "You don't need a lot of weights or gears for a workout. If you're constantly on the go [like Rihanna], all you really need is a mat and a little space."
ALTERNATING LUNGE JUMPS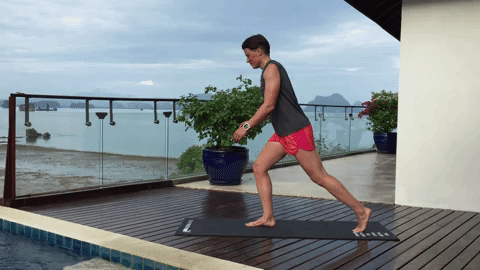 Sightseeing and manoeuvring your way around groups of tourists surely could help hit all the targets on your pedometer but if you really want to put your quads to work, incorporate the alternate lunge jumps into your quick session.
Train yourself to constantly be aware of your form, while performing an exercise. For the alternating lunge jump, you start by assuming a lunge stance position with one foot forward (and your knee bent), and the rear knee nearly touching the ground.
Ensure that the front knee is just slightly over the midline of the foot. Extending through both legs, jumps as high as possible. Switch the positions of your legs mid-jump and as you land, absorb the impact through the legs by adopting the lunge position again.
Easy peasy, right? Well, get onto the express lane to Fit Town by adding some weights to this exercise.