As much as you need to detox your body every year, you need to detox your mind too. And since most of our mental clutter comes from all things digital, your social media needs a clean-up every once in a while to keep things running smoothly.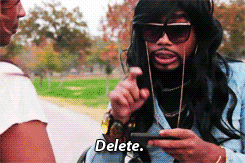 Delete accounts that you don't use
In the dusty, dark corners of the web lie your old Myspace and Friendster accounts.
Websites that were once the in-thing have now been reduced to jokes and memes on 9Gag, so why are you still holding on to accounts that you don't need anymore? If you're the sentimental type, log in and download all your pictures first before saying goodbye to your accounts.