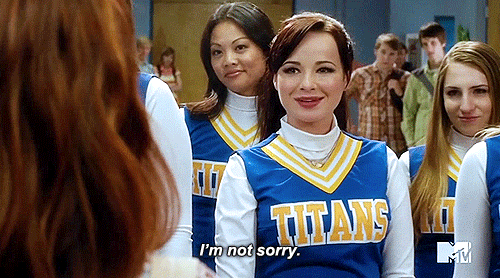 In a world where "sorry" seems to pop up as often as a Kardashian selfie, we need to make the decision to unapologetically own our awesomeness.
1. Not hooking up with that dude you just met
"You can still meet and mingle without losing your self-respect," says life coach Bobbi Chegwyn (askcoachbobbi.com). Trust us, you'll be thankful for resisting the kiss in the morning when the beer goggles wear off, and you realise that the Channing Tatum lookalike who is giving you the eyes is anything but. Shudder.
2. Changing the subject when your pal is bitching about another friend
If you need to vent to someone you trust, go right ahead. But mouthing off just to join in on the conversation makes you a follower, and that ain't cute.
3. Having unpopular opinions
When you get older, you realise having your own opinion makes you unique. "The unpopular opinion is often the one most are afraid to speak, for fear of being different," says Chegwyn. Sticking to your guns shows that you're true to yourself no matter what. "Bandwagons are so last century," Chegwyn says.
4. Bailing on plans for some alone time
"Time alone shows you're comfortable in your own company and don't constantly need reassurance from the outside," says Chegwyn. And why wouldn't you want to spend time with yourself? You're awesome.
5. Enjoying mainstream entertainment
Remember the days when you'd set your MySpace song to a cool indie track that was actually a total snoozer but still gave you street cred? Those days are done – pump the Top 40 hits as much as you damn-well want. "Apologising for what ultimately brings you joy is essentially apologising for who you are," Chegwyn explains. "Why give up your real joy to please another?"
6. Enjoying the single life
You may begin to feel pressured to bag yourself a partner, but don't go swiping right for the wrong reasons. As Chegwyn tells us, "You'll always get different outcomes from what you perceive you have to do, and what you want to do," she explains. "Having to find a partner can emit an energy of desperation. The 'want to' will know their preferences, self-worth, and will understand the value in waiting for their match." Take that, Tinder.
Credit: Matthew Galea