You're probably wondering; why am I reading this? Chances are your girlfriend saw the title of this post and shoved her phone in your face. You should definitely take the hint: you're not giving your girlfriend the TLC she needs when that time of the month hits.
It's perfectly okay if you don't know what to do at first because not everyone knows what to do right off the bat! My boyfriend was clueless when we first started dating but now, he's a pro at handling me at my worst.
You know what the sexiest thing a man can do is? Head out to buy his girl a pack of pads or tampons.
So gentleman, sit yo' butt down while I educate you on some of the ways to take care of your girl:
Food Monster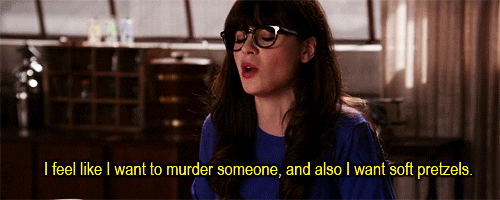 This means bring a big box of chocolates/McD's fries/ice cream/crisps when you're coming to visit. We're gonna have cravings and we're probably going to eat more than you so please do not judge us.
We'll also probably complain about our weight with the usual "I'm so fat!" to which you should reply "No babe, it's okay. Here, I'll eat with you and F.Y.I., you're not getting fat." all while handing her another slice of pizza. #GOALS.