Admit it, it's been a while since you heard the word "libido". Let's talk about getting over these common mood-killers.
When you don't want to, you don't want to. But what about when you do want to yet can't get off the starting blocks? Desiree Spierings, sex therapist and director of Sexual Health Australia, decodes — and knocks down — some of the common obstacles on your path to the bedroom.
"I'm Too Tired"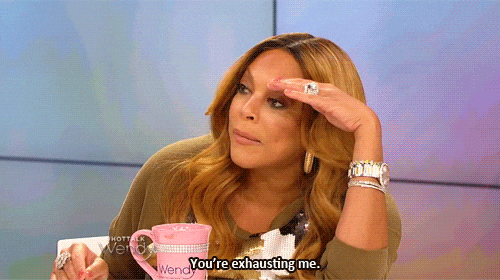 After slaving away at work and then thinking about what's for dinner when you get home
(unless bae just happens to be Jamie Oliver), sometimes you can't muster up the energy, even when you want to.
"Women wake up with a huge to-do list, and often sex either isn't on that list or is at
the bottom. By the time we get to it, we're exhausted," explains Desiree. She suggests some ways around this problem: "Create 'intimate opportunities' when you have energy — like sex first thing in the morning."
You can also try sending you rguy some sexts throughout the day, which will help get you both in the mood. Desiree's number one tip is to tweak your priorities. "Make sex part of your to-do list. Ask yourself what will be more effective for keeping your relationship happiness at a high: doing the dishes or having sex?" Pretty sure sex wins.