There's no denying that our local arts scene has been booming in the recent years. The public's appreciation for art has increased immensely.
Urbanscapes is the longest running creative arts festival in Malaysia. Now in its 16th year the festival will spread across three weekends in various parts of the city's historic core-taking advantage of KL's glorious cityscape, and complementing it with some creativity.
Here's what #TeamCLEO is totally looking forward to.
the unique Workshops
If you want to get your hands dirty and dabble in something new, head over to these workshops. Who knows, you might just discover your new talent!
Silkscreen Printing Workshops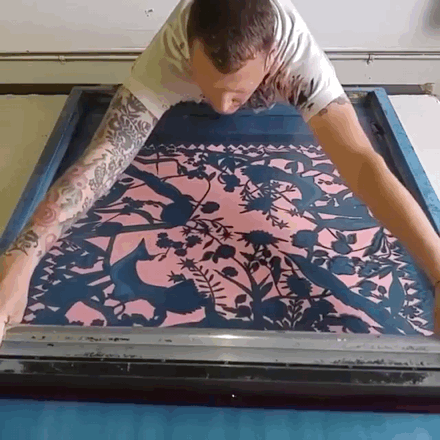 A stenciling method that involves printing ink through stencils that are supported by a porous fabric mesh stretched across a frame (screen). If you've always wanted to up your DIY game, head over to these workshops to learn how to silkscreen. 
**Note: Both these workshops are held at the same time but at different locations. 
1. OBEY GIANT: The Art And Dissent Of Shepard Fairey
In between the Malaysian screening of the award-winning documentary on the life and work of artist Shepard Fairey, a silkscreen printing workshop will be done by local street artists Fritilldea and Donald Abraham.
Date: 10 & 11 November 2018
Time: 3pm – 6.30pm
Venue: Urbanscapes House, Ground Floor
2. Bikin Sendiri Workshop
If you find yourself at the Zhongshan Building instead, join Bikin Sendiri's workshop and make your own unique t-shirt print. Registrations aren't required but seats are limited.
Date: 10 & 11 November 2018
Time: 3pm – 6pm
Venue: The Zhongshan Building
DIY Your Own Pantyliner
Yup, you read that right.
With the state of our planet, every initiative to be more eco-friendly helps. Did you know it takes 400-500 years for disposable pads to dissolve? Learn to make your own cloth pads and find out more about how switching will not only help the planet but yourself as well!
Date: 11 Nov (Sun)
Time: 3pm-6pm
Venue: Rumah Attap: Library & Collective
Registration fee: RM 100 (Workshop materials and tools is provided.)
Register here.
Learn more about Urban Farming 
Want to grow your own veggies and herbs in your own home? Soil experts Ground Control are conducting workshops on edible gardening amidst the calmness at Kuala Hijau.
Date: 17 & 18 November 2018
Time: 4pm & 6.30pm
Venue: Kuala Hijau, River of Life