Not long ago, Brett Kavanaugh, formerly a US Circuit Judge, was recently confirmed to the Supreme Court. A confirmation that sparked a major uproar from people across the country. Why so? Well, prior to the confirmation, Kavanaugh had been accused of conducting sexual assaults towards three different women — but denied all allegations. Yet, he was still nominated by the US President for the Supreme Court, got away from the allegations and his nomination got confirmed by the Senate. Now there's a case involving a local college lecturer (currently suspended) who was sexually harassing his students! What is going on with the world?!
We at #TeamCLEO's office are striving to make a difference too, using our voices to bring an impact to the society on sexual violence. We believe in the ripple effect; where it all starts from one person to make a change. Have you ever been in a situation where a guy friend tells you something about other girls and you end up feeling chilled right to your bones? Or when he puts his arms around your shoulders even though you're not feeling comfortable with him doing so? If the answer is yes to either one, do you have the guts to tell him that you're not alright with his actions?
Most of the time, guys aren't aware that their actions like calling girls names or putting their arms over girls' shoulders actually affect us. So, if you have ever encountered your guy friends or even your own BF doing something towards you or a female friend that either of you may not feel comfortable with, pull him to one side and educate him about respecting females.
Don't know what to say? #TeamCLEO listed out a few guidelines to follow on respecting females for your guy friends or BF: 
'No' means 'no'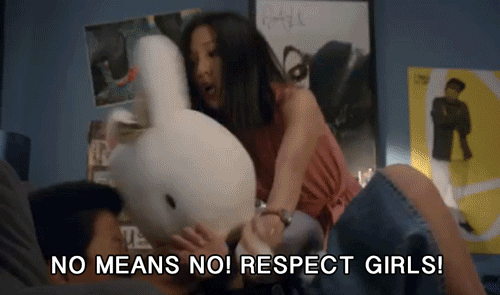 'No' is a two-letter word that looks simple but can be powerful. Nobody is a mind-reader, so it's better to be straight-forward. If you're hearing your guy friends complaining about some chick ghosting them and sometimes, to the extent of calling them names, you should stop them immediately. Tell them that it's not cool to disrespect a girl just because they were rejected — it will only make them look like a jerk. Instead, they should just get the hint that she's not interested and move on.
Or if you're stuck in a sticky situation yourself, just say 'no' because you have the right to say so. Only real men and friends will respect your decision.