You've found a place and going down the whole "living with strangers" road. But really, it can be pretty nerve-wracking deciding who's going to be sleeping in your general vicinity. You don't want to end up with one of those sharehouse horror stories that become an urban legend.
"Finding a housemate can almost be the make or break of the sharehouse experience," says Jennifer Duke, reporter at domain.com.au. "Your may end up great friends, or you could find that they eat your food, have loud late-night parties and never clean up after themselves."
It may be awkward, but your only way to assess your potential housemate is by … interviewing them. And always trust your instincts. "Not everyone is well suited to living together, even if you think they're nice. If you don't think they'll suit, don't hesitate to say no," says Jennifer.
Take a look at our trusted CLEO questions and checklist to ease you into finding the right fit. Oh, and all the best!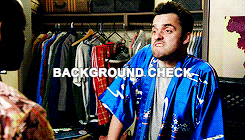 Ask for their former housemates' numbers and hit them up to hear their thoughts on your potential mate. If there's anything shady you'll find out soon enough.