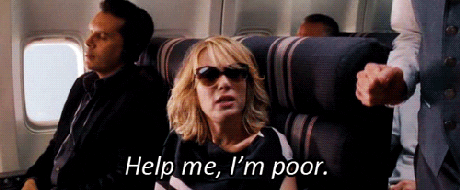 Is your full-time job not earning quite enough to support the lifestyle you want? Here's how you can easily increase your savings without getting a second job!
Put your shopping addiction to use
Getting paid to buy stuff – it's every girl's fantasy, right? And if you don't mind a little bit of mystery, this creative way to make moolah is 100 per cent for you.
"Companies are always looking for mystery shoppers to report back on their retail experience," explains Alison Gallagher, financial literacy coordinator at Regret Nothing (regretnothing.com.au). "You will be given an amount to spend and you'll need to look out for things like how long it takes staff to greet you, whether they try to cross-sell other products and if they're wearing the correct uniform."
Google "mystery shopper" in your area to sign up for opportunities that can earn you anything between RM50 and RM150 per session. Plus, if the company has asked you to spend a certain amount, you'll generally be reimbursed – so while plenty goes into your wallet, nothing should come out.
*POTENTIAL SAVING: RM400/YEAR
Think smarter when you need cash
Is there anything more annoying than not being able to find your bank's ATM and having to fork out a RM1.06 fee at another bank's ATM? Yes, and here it is: If you're doing this few times a week, you're essentially throwing away a few hundred clams. Every. Single. Year.
So next time you're in desperate need of cash, whip out your smartphone, advises Nicole Cannon, owner and financial expert at Pink Finance (pinkfinance.com.au). "Most banks have an ATM locator service on their website, so use it to find an ATM nearby. In the long run, it's worth walking an extra 200 metres to save that money," she says. If you're a serial offender, think about switching to an account that pays your fees for you.
*POTENTIAL SAVING: RM390/YEAR
Sign up for every online special
Although they might clog up your inbox, subscribing to the e-newsletters of your favourite fashion labels, clothing stores and experience vendors (like Cudo and RedBalloon) means you'll receive news of sales and special discounts before anybody else.
Beware the e-newsletter trap, though, and only sign up for brands that are in line with your budget. That designer bag on Net-A-Porter might be a great deal, but even on sale it's still worth four weeks of your pay.
*POTENTIAL SAVING: RM500/YEAR
Join a focus group
Do you have an opinion on, er, stuff? Then participating in market research is definitely something to add to your money-making repertoire.
"Focus groups are great because you don't need any qualifications – you just need to be available at the scheduled time," says Gallagher. "You could be paid as little as RM50 and as much as around RM100." "There are even online survey sites, so you don't have to leave the comfort of your home to earn some extra money," says Cannon.
*POTENTIAL SAVING: RM400/YEAR
Credit: Edwina Carr