Is Nail Art Still A Thing?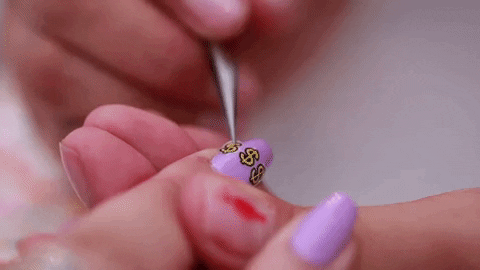 Hand me over a set of make-up products and I'd be more than happy to paint my own face. Taming the frizz or keeping my nails in check are not within my region of expertise.
Every time I step foot at my regular nail salon, the lovely ladies hand me over those nail colour samples – it's overwhelming and I freak silently. Hence why, I always stick within my comfort zone. It's easy and you know it's going to look good.
Classic red nails, round and short. I know, i'm a wild card.
Of course I've done my fair share of acrylic, but that experience crossed the option off my list quickly through exhaustion of removing them. It took me almost a month to strengthen my brittle nails back to its natural state, THE HORROR. Much respect to people who have enough patience to create amazing designs on such a small surface, let alone paint their own nails to be honest. I've spent many hours on Youtube listening to Suzie explain the mechanics behind nail art, but I think I got more satisfaction from watching her do it (because it works) than motivating myself to.
After countless chats with one of the ladies at the salon who goes by the name Katie, she suggested nail art stickers. To be frank, the first thing that popped in my head were those tacky floral stickers that sorta floats on your nails. The selection they had at the nail parlour weren't so attractive either, so I went on a hunt for designs I actually like.
Best freaking thing that ever happened to me. If you're a girl that doesn't have hours to spare drawing miniature things on your nails all day, or choose not to – here are my top favourites: