Femnomics: The Stats That Prove That Women Have More Power Than You Think
Who run the world? You, because women are making more and more of an impact in society, and here are the effects.
The year that passed saw some pretty powerful moments for the fairer sex. In 2017, the global Women's March had the world watching as people all over marched in solidarity about women's rights and civil liberties. Time magazine, which once featured Trump as their Person Of The Year, had five "Silence Breakers" grace their December 18 issue in 2017. Among the names were celebrities Taylor Swift and Ashley Judd, engineer Susan Fowler and lobbyist Adama Iwu.
And of course Queen Bey made waves; in 2017 when Forbes released its Celebrity 100 list, she was crowned the most influential person on the planet. But perhaps you weren't aware of just how powerful you are in today's society. Did you know that we, as women, are responsible for 85 per cent of global consumer purchases, with even more power in other decision-making matters? Well, here's to heralding a new era of girl power.
LET'S TALK GIRLS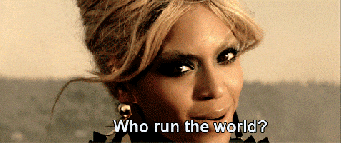 It's not just us as consumers. It's shifting in the workplace too (we're sure you've noticed). Over at the largest media house in Malaysia, Media Prima, women have long been given the opportunity to take on leading roles. At FlyFM, 14 out of 23 department heads are female." The management has successfully groomed a culture of hiring the right people who are passionate and driven with gender never being a filter," said Shiva Ruppeni, Head of Programming at FlyFM. When she first joined the company at 21, she initially feared dealing with those much older than her. "However, having female superiors played a vital role as I felt there was someone there paving the way for me — making it such a supportive and nurturing environment to learn and grow," she mused.
Despite social programming, people such as Shiva are still determined. "My goal is to constantly seek and groom talents — regardless of gender. When we ran #Flydol2017, the turn-out at auditions were 95% female and the Top 10 ended up being all females too. Many comments flooded in saying we picked solely females to boost our ratings, but the reality is that they truly were the best candidates. At the end of the day, it's exciting to see more women step out of their comfort zone and pursue careers in the entertainment industry. It's this resilience that us women have that will propel us further!" said Shiva.
At the end of the day, when it comes to social change, there's still a long way to go in the steep climb to gender equality. But more and more, we're the ones in driver's seat. Yep, we're spending money, making decisions and running households. 2017 was just a kick-off point for all of womanity. We saw more women run for office, and we saw women confront those who used power to perpetuate a culture of sexual abuse and harassment. Welcome to the realisation that girls will, one day, run the world. After all, Beyoncé called it.