Are Your Friends "Real" Or Just Out To Sabotage You?
Featured image: Úrsula Madariaga/Pexels; Image posed by models in no relation to this story.
* This story was previously published by CLEO Malaysia in 2017.
We have a lot of time to introspect. And in this moment, you're probably taking a mental checklist of what really matters to you at this moment. And while it means decluttering your space physically, you may need to do a friend detox sometime too.
RELATED: I Tried The Konmari Method And Never Expected These 5 Results
RELATED: How To Make (And Stay) Friends As Adults
Are you checking in with your friends? Are they checking in with you? We asked around and have some examples of what it means when a friend treats you right, VS when they're just waiting to watch you fall. See if you can relate:
True friends do this:
"A true friend will tell it like it is, no matter the situation. For example, you're shopping but you're stuck with choices that make you look crap. For me, I'd tell my bestie that it's not lit and get things from the floor that will make her look bomb. We look out for each other." – Ling, 25, event planner
"Me and bae had just broken up after a three-year relationship. That night itself, my BFF was with me for a sob sesh and ice-cream. Just like her, a real best friend would grab your phone, delete him from your life then help you get your life together. Bye, boy!" – Pat, 28, writer
"I got offered my dream job and guess who was more excited? My friend – she counted down the days to my new job on her Insta Story, and tagged me every bit of the way. It didn't stop there, she even arranged a congratulatory dinner, drinks and party with my boyfriend. I was so #blessed. What a woman!" – Fara, 28, interior designer
fake friends are in disguise:
"This happened to me: we were online shopping together at mine, and she kept pushing me to get things I knew wouldn't look good on me. Some people are too nice to say that something doesn't look right, a true friend would be honest, but this felt like she wanted me to look ridic, and that wasn't right." – Ain, 26, branding executive
"Break-up central. Population: Me. My frenemy found out and texted me for all the deets. She then told everyone I knew that it was my fault, and a few weeks later she was in his Insta Stories. Go frickin' figure. I blocked her and him there and then." – Lily, 27, social media manager
"I got promoted and was on a real career high. My ex-best friend laced all her congrats with snarky comments: 'Oh, you're not a struggling artist anymore. Finally, you can join us for dinners!' Turns out that my job was better-paying and had much more perks, and she couldn't stand that other people could one-up her. Sad. So much sadness." – Sher, 26, art director
To help you, we have this short checklist of how to spot the real fakes
1. Beware the jealous friend. She's the only one who doesn't call when you land a promotion or get that cute new pixie cut.
2. She or he is competitive, and not in the great way. They are socially always wanting to one-up you, and tries to poach your friends or turn people against you.
3. She or he undercuts you. Not just at work. She could even withhold information to see you stumble (in other words, sabotage!)
4. They are unreliable AF. She's great at a party, but when everything goes to shit, he or she ghosts you, or they're "too busy".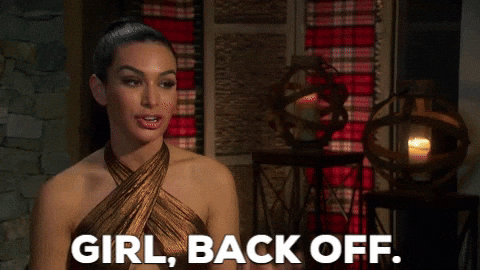 If you read this and find that you're thinking of someone in particular, then it might be worth having a talk with that person to find out if they're really the culprit or you're also contributing to this friendship meltdown.